I was browsing
General Pants
which has always been the trendy upmarket store since I was in high school. I was floored when I saw plain cotton t-shirts with nothing too special about them going for almost $100.
What exactly is that $100 of yours paying for?
The psuedo-avant garde slogan? The worn fabric? The holes? No. You're paying for the brand.
I'm all for championing Australian fashion and home grown designers, but geez this is getting a tiny little bit out of hand and I think it's across the board. Have you seen
Erin Wasson's RCVA line
? Talk about a rip off.
$230 for trashed denim cut offs? DO NOT WANT.
I'm 22 and I'm a lot more aware of what I'm buying. In any piece of clothing, I look at the cut, the quality, the material, it's overall timelessness and how it would work with the rest of my wardrobe. I would think at least 3 or 4 times about spending more than $40 on a non designer cotton t-shirt. I took one look at the price tags, was amused for about 5 seconds then rolled my eyes and walked away. The very last dress thing is made of rayon for crying out loud, price your clothing a little bit more sensibly please
I'm a broke University student, fuck you and your overpriced shit.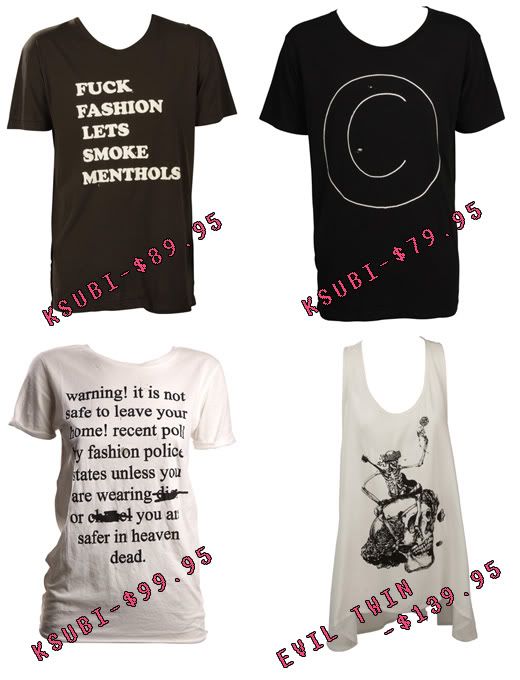 From General Pants.com