Lies and slander. One can never blog enough.
Especially when I have some spectacular and inspiring images to post! I sincerely believe I'm not meant for this generation. I think I would have fit in well in the fifties or possibly the twenties, fashion-wise anyway. Fashion from back then isn't exactly all that wearable now. Day-to-day ensembles don't require glamour, unless you're Anna Dello Russo or Carine Roitfeld. As much as I want to go outside in an adorable full skirted day dress complete with gloves, I can't. I am not that brave.
I love the familiarity and comfort of my jeans, the feel of a worn in vintage t-shirt, I love androgynous dressing, but some days I wish we could go back to the days when women wore dresses and wore them well. I want to be able to wear a silk dress during the day and not feel overdressed.
Gah!
How long have I been feeling obligated to dress to society's standards? It's ridiculous. I should be able to wear what I want, when I want and not be judged for it. I admit I do it to other people. There was this girl in University the other day wearing BRIGHT RED patent hooker heels and I sneered at her. I really shouldn't have. Now would be a great time for a revival of day-to-day glamour. Anyone want to start a
fashion attitude revolution
? Call me when you do, I egg people on, I rarely have the balls to do it myself.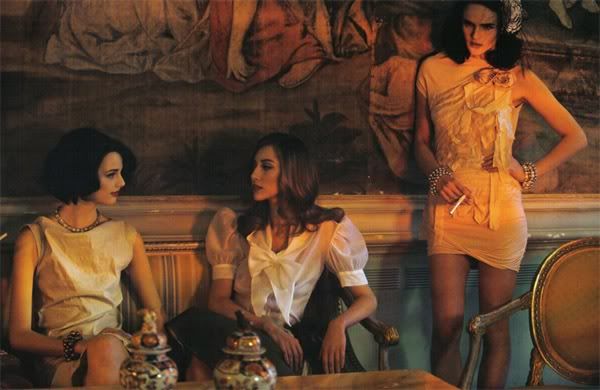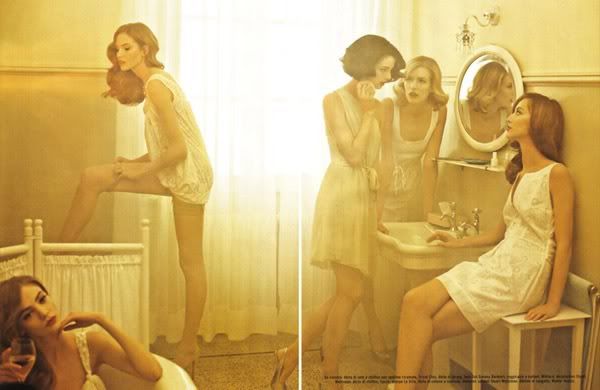 Images from Vogue Italia March 2010