I have no idea how I found
this pom accessory website
but I spent about an hour looking through everything and I WANT ALL OF ITTTTTTT BLARGHHHHHH.
I was going to list and link everything but there was just far too much that I wanted. I love accessories that are quirky and adorable and
Galibardy.com
definitely ticks those two boxes for me. The items range from
£10-£30
which isn't too bad, very affordable.
(I guess "affordable" is subjective, I went to another website, black lily or something and their accessories; described as "affordable" were AUD$100)
Go on take a gander. Some of the necklaces aren't innovative and exciting, but I adore the rings, particularly the apple, the circus tent and the black heart with wings. I like rings that fit, I don't like rings that are adjustable, they remind me too much of those really cheap novelty rings you would get out of a cereal box and I'm immature enough as it is.
YES there's a transformers ring in there! It's not as hardcore nerdy as I want it to be, but it'll do. I like wearing symbols of things that I love. Up until about a week ago, I listened to nothing but wall-vibrating-heartbeat-altering dubstep and DNB but I've been in an acoustic-y mood lately, indulging in lots of Dashboard Confessional. Their lyrics are so out there and metaphysical, I find them to have more quality in one line from one song than the Secondhand Serenade shit that's all
I MISS YOU AND YOU BROKE MY HEART SO I WRITE EMO SONGS ON MY GUITAR THAT ARE ALL THE SAME IN TUNE AND THEME AND A GENERATION OF KIDS WHO AREN'T REALLY EMOTIONAL OR AWARE OF ANYTHING THAT WILL HAPPILY SWALLOW WHATEVER TREND IS SHOVED DOWN THEIR THROATS WILL LIKE THEM AND THEY WILL POST THEIR LIFE STORIES ON ALL OUR YOUTUBE SONGS AND WE WILL GET ACCOLADES WE DON'T DESERVE.



- Breathe Christine -
Anyhoo, some of their songs aren't terrible, BUT COME ON FUCKING SMILE ALREADY YOU EMO PIECES OF SHIT. Are you in poverty? Do you have some sort of terminal disease? Did your penis get amputated? Do you have 4 walls and a roof as shelter? Do you eat more than once in a week? Do you have access to clean water? Is your country war torn? Are you forced by rebels to kill innocent people? Yeah I didn't so, GET OVER IT. BREAKING UP WITH YOUR GF/BF WHEN YOU'RE 14 IS NOT THAT BAD COMPARED TO THE TROUBLES OTHER PEOPLE IN THIS WORLD HAVE. MAKING TINY LITTLE SCRATCHES IN YOUR ARM BECAUSE YOU'RE IN "PAIN" DOESN'T DO SHIT KID. LOOK AROUND AND FIND FULFILLMENT IN HELPING OTHERS IN NEED. YOU'RE A KID IN SUBURBIA WEARING CONVERSE SNEAKERS AND TIGHT JEANS THINKING YOU'RE SUCH AN INDIVIDUAL AND YOU'RE SO MISUNDERSTOOD. STOP TAKING WHAT YOU HAVE FOR GRANTED. GO AND SEE HOW THE OTHER HALF LIVE, HOW HARD THEY HAVE TO WORK FOR EVERY INCH. WHY DO YOU THROW THE WORD "LOVE" AROUND SO EASILY? HOW WOULD YOU EVEN HAVE A DEFINITION OF LOVE AT SUCH AN EARLY AGE? YOU'RE A BABY. PUT THE RAZOR BLADE DOWN AND HELP YOUR MOTHER IN THE KITCHEN. DON'T USE THE "WALK IN MY SHOES" LINE BECAUSE YES I HAVE BEEN THERE. WANTING TO KILL YOURSELF BECAUSE YOU "RLY RLY LOVED THEM <33333333" IS JUST STUPID DUDE. GROW UP,
FIND A REASON TO LIVE, DON'T DEPEND ON SOMEONE ELSE'S EXISTENCE TO GIVE YOURS MEANING. BE YOUR OWN SAVIOUR.



- Breathe Christine (ROUND 2) -
Okay I think I'm all ranted out. The caps lock is gone so you know I'm done. Anyway. I can't function without music, so the turntable/headphone charms and the 4 sided cassette-boombox-turntable-union jack ring are going on my TO BUY list once I'm no longer broke (HAH, I wouldn't hold my breath). Oh and I
HAD
to add the bitten chocolate bar necklace for
Manfriend
, since he thinks all I eat are chocolate and souls.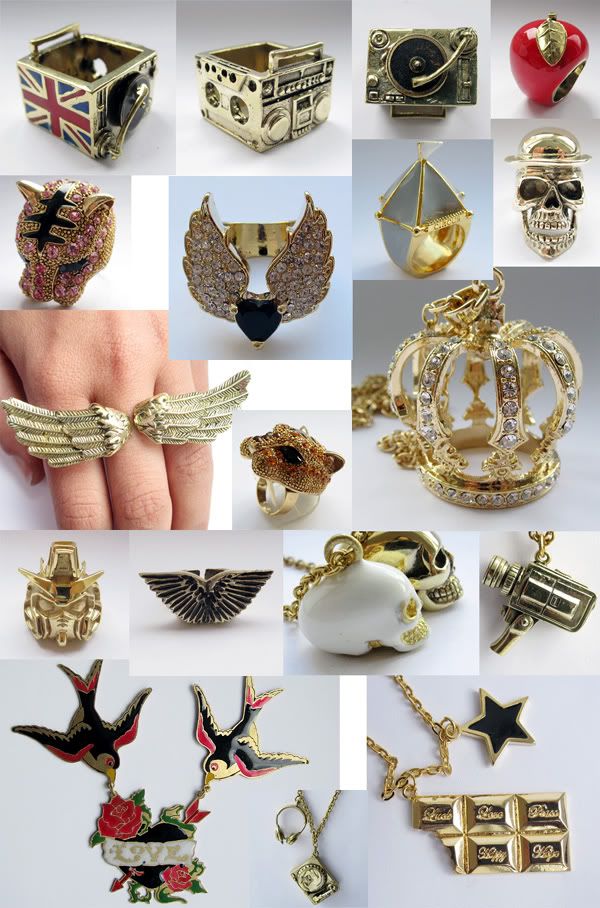 Images from Galibardy.com