A lot of people think over the top and unrealistic fashion is cutting edge or incredibly fashion forward. In some cases yes, but in most, no.
Take Anna Dello Russo for example; a fabulously stylish woman who wears sequins, fur and everything in between. She has an enormous fan base, people who adore her style and commend her for being so out there. Completely opposite to Dello Russo is Kate Lanphear; she has an equally huge fan base with her edgy and androgynous look complete with Lee Supatubes and spiked wrist bands. Neither is wrong or right, but both are appreciated.
Fashion; at the end of the day is all about expression. Lots of people choose to express themselves with bold colours, intricate cuts and embellished pieces. Other people choose simple colours, timeless cuts, dressing true to understated elegance. There is no right or wrong. It's a matter of personal taste. This blog is from my perspective so of course I'm going to post things that align with my aesthetics.
With that said, I love really simple clothing, it's so versatile. It's mixed and matched to create something fresh. It's never what you wear, it's how you wear it. A basic but well fitting t-shirt can look as good, if not more so, than an outrageous blouse.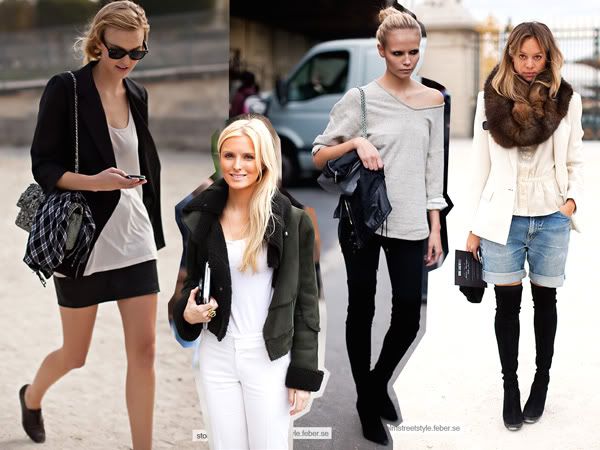 Images from StockholmStreetStyle.Feber.Se