Winter is knock-knock-knocking on the door and I'm welcoming it with open arms. Out of all the seasons, I enjoy winter the most. The layering, the textures, the contrasts, the fact you can hide your fat under a bad ass leather jacket, oh and most of all -
THE LEATHER JACKETS
. For me, it's the season where you can get really creative with mixing and matching pieces from different seasons. I haven't blogged in a while but that doesn't mean I haven't been stalking looks and trends that I find inspirational.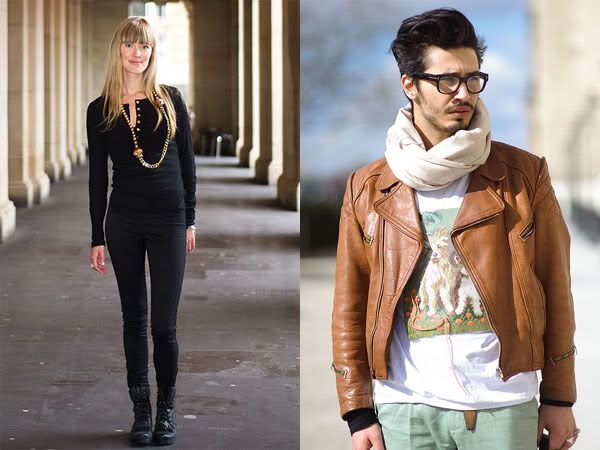 Mmm. Monochrome. Black is my absolute, hands down, favourite colour. This is a look I'd love to emulate, unfortunately I don't have her legs or those boots. It's always interesting how people address monochromatic outfits. All black has a tendency to be boring but to me this is simple, understated and chic.
The gentleman on the left has a jacket I would crawl over a barbed wire fence for. The colour, the cut, the edginess without the tackiness, it's a beautiful jacket. I also can't help but admire the general
bad-assery
he's oozing.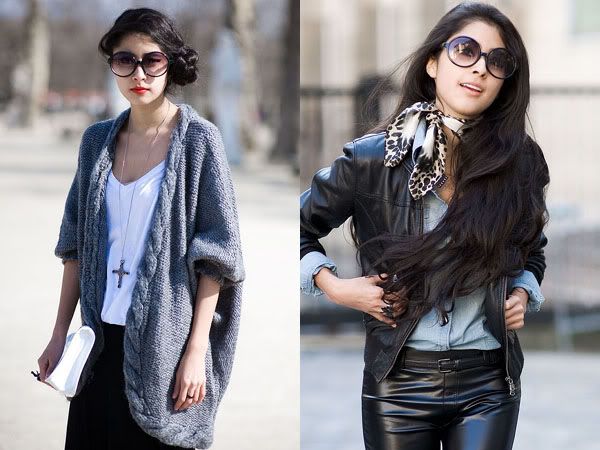 Big big big over sized knits. The kind of knits you want to crawl into and just sleep for days. Angora, mohair, wool, cashmere, even acrylic; bring it all on baby. If you deconstruct her outfit, it's pretty simple the white shirt and black bottoms make for a very versatile foundation. I think this winter I'll be cutting down on the necklaces and opting for subtle statement-but-not-really pendants on simple chains.
Not only am I jealous of this girl's ability to rock the red lipstick and so-chic-it's-painful style, but look at her hair. Damnit. I really wish I hadn't cut mine. Oh well, hair grows back right? I never thought one could successfully pull off leather on leather, but there's something so right and very rockabilly about it. It's not something I'd try personally -
HELLO THIGHS
- but I think she really pulls it off.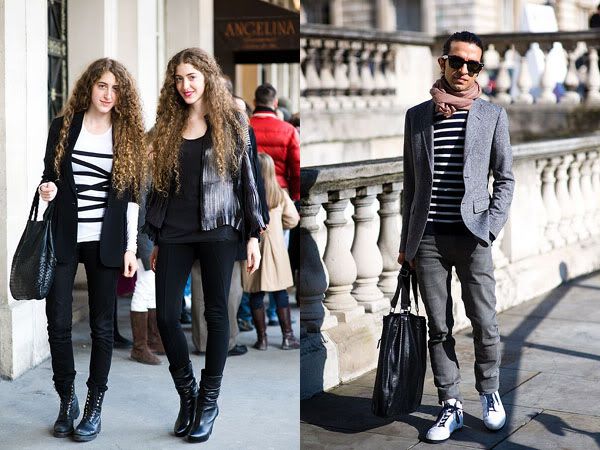 Once again. COMBAT BOOTS. GRRR. I've been looking for an affordable pair of either combat boots or flat motorcycle boots to live in this season. I've seen a few that I do like but nothing I'm in love with. I don't like boots that aren't structured, not a fan of that slouchy crap. I love both the twins' outfits and their crazy untamed manes. There's something so inherently bohemian about the hair. I'm digging it.
I adore this man's outfit. Being the cross dresser that I am, I do find myself being inspired by men's fashion and this is something I would definitely wear, except maybe black jeans. I'd also exchange his scarf for something silk and much bolder in colour. The black hooded bomber jacket and military inspired coat are definitely the staples for men this season. Not really complaining, I love the look. I've always been a fan of blazers. Blazers have definitely made it onto my list of necessities. I've acquired quite a lot of blazers over the past year, from leather all the way to silk and linen. I'm not really a cardigan person and I find the blazer instantly adds a structured feel to any ensemble.
All images from Vanessa Jackman