After a somewhat enlightening and far too optimistic conversation with one of the best friends a girl could have, I think the dark cloud that's been hanging over my head has finally lifted as Winter begins.
From my blogs I see that I've been getting more and more into street style than runway couture. Don't get me wrong, I have before and will continue to drool over dresses I could never afford (Balmain & Temperley I'm looking at you), but I find the outfits around us can be just as inspiring. I like to observe people and it's interesting to see how people twist and bend their clothes into submission. I love the interpretation from runway to every day wear.
Sydney winters are funny. The past few days it's been warm enough to be out in a t-shirt and jeans during the day but wow, you freeze your proverbial nuts off during the night.
I digress.
I like leggings. They sort of fit with our climate. I don't like when they're worn as pants without an oversized top. As a person, you should know when things aren't flattering. There must be some alarm that goes off in your head that makes you question your choices. Like,
"Hey! My vagina looks like it's chewing up my psuedo-pants! Maybe I should choose a different pair of pants?"
Don't wear leggings as pants. Just don't. When those girls are giving you some side-eye, it's not because
yo' booty looks FYNE
; it's because you look like a twat wrapped in a fashion faux pas.
With that said, there's no shifting leggings and opaque stockings from this winter's must have list. I'm still trying to find the holy grail of black leggings. I know that a lot of places stock leggings, but I don't want the crappy 95% cotton kind. They're far too thin to be useful, they stretch out of shape too easily and fade so fast. I'm looking for a thick-ish pair that's matte but with the tiniest bit of sheen to them, similar to opaque black stockings.
Oh by the way, these photos are almost a year old but I think they're still very up to date and look fucking fantastic. I am digging the knee high/over the knee opaque socks/stockings (I have no idea wtf that is but I want a pair) in the last picture. I think it's a really sexy look, plus it let's you not shave your legs for a few days. :).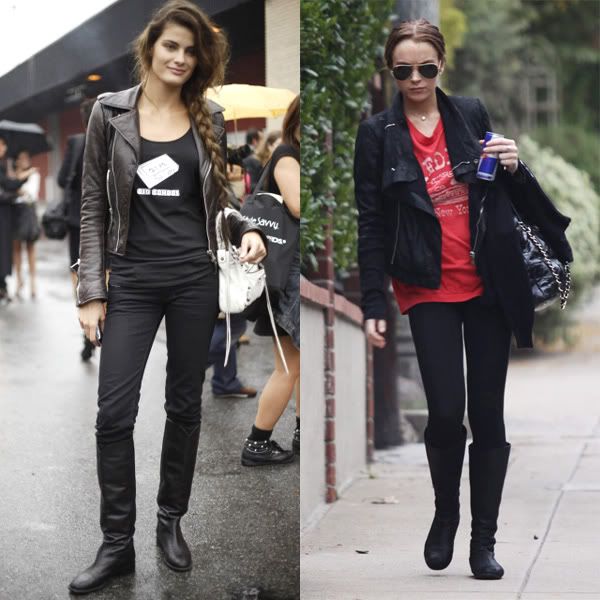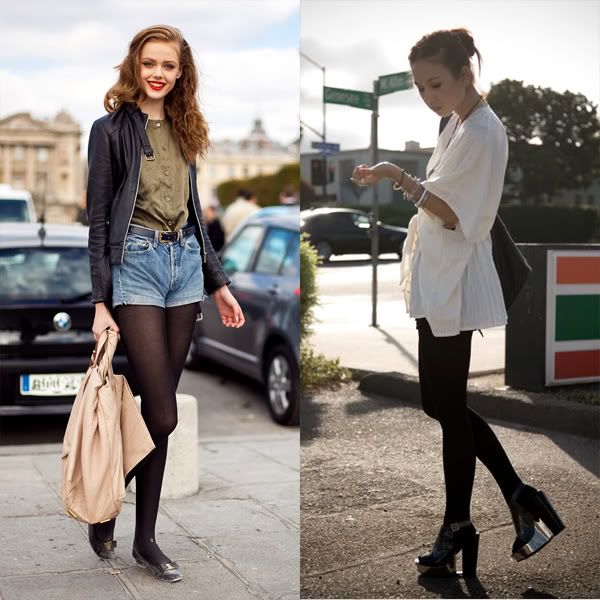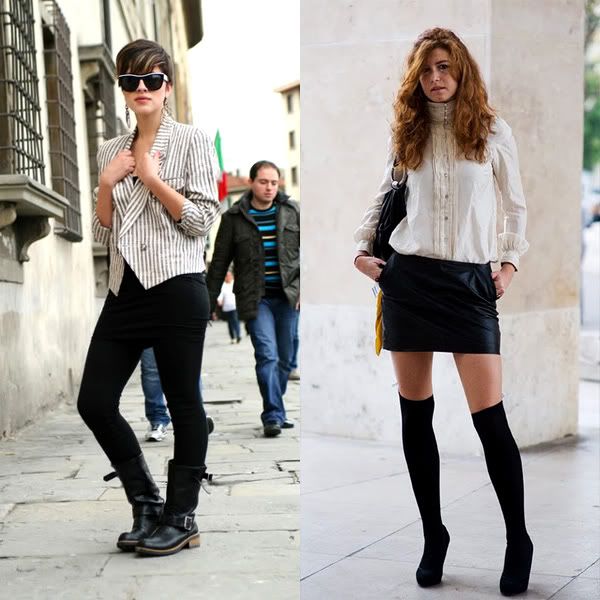 Images from: Jak&Jil, Fashiontoast, Karlascloset and the Lindsay one IDK :(